RedFox Rebates GPT Site
Nick Throlson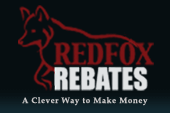 UPDATE: Redfox Rebates is no longer an active GPT site I highly recommend you check out Ebates?& Squishy Cash.
RedFox Rebates is a new GPT site but with a new look & great design really like how you can navigate the site get where your going with ease. RedFox?has hundred's of free offers really like how they list in categories so you don't have to search for anything. I have to admit this is a must join Get Paid To Site!
Here are 3 main ways that you can earn money from this website.
1. Shop Online.
You will get paid a percentage of whatever you spend.? We carry many well known online stores, so there is no shortage of ways you can save money.
2. Test products for FREE!
You will earn a money for completing trial offers on a whole range of products.? We have provided a link for "All Free Offers", which makes it very easy to see how much you can earn by doing things for free.? Also take a look at the "Redfox Daily Offers", these are surveys that you can take once every 24 hours!
3. Refer friends to RedfoxRebates.com.
Not only do you get paid for everyone you refer, but you also get paid for everyone they refer too!? We call this Level 1 (people you refer) and Level 2 referrals (people you're Level 1's refer).? You can move up the commission structure by referring more people (see chart below).

Jump a Commission Level!
The most exciting part of this commission structure is that?in any month that you earn $20 or more from completing YOUR OWN shopping or free offers, you will be advanced a commission level for that month!
So, if you are currently at an?expert level (with 500 or more referrals), and you earn $20 in a month from your own shopping rebates, then you will automatically get advanced to the?Redfox commission level for the month!
This allows you to earn BIGGER commissions much sooner!? (Please note that you will begin the next month at the expert level again, unless you refer enough people to remain permanently at the?Redfox level).
Affiliate Rank
Level 1 Payout
Level 2 Payout
Referrals Needed



---

Beginner:
15%
10%
0
Intermediate:
20%
15%
50
Expert:
25%
15%
500
Redfox:
30%
20%
1000

*In any month you earn $20 or more from your own rebates?you move up 1 affiliate rank.
Please note that all referrals are based on active members. An active member is someone who has logged into their account within the past 90 days.
click here?to sign up with RedFox Rebates Today!